Regular price
Sale price
€16,95 EUR
Unit price
per
Sale
Sold out
Shipping & Returns

Shipping is free when you spend over €35 when ordering from Nederland, Germany and UK & Ireland
A standard rate of €3.50 is applied for invoices under €35.
For all other European countries a charge of €7.50 is made for each order to cover costs, and shipping is free if you spend over €50 .

We have a 14-day return policy, which means you have 14 days after receiving your item to request a return.
Care Instructions

Every care is taken on packing and despatching your purchases.
Share
View full details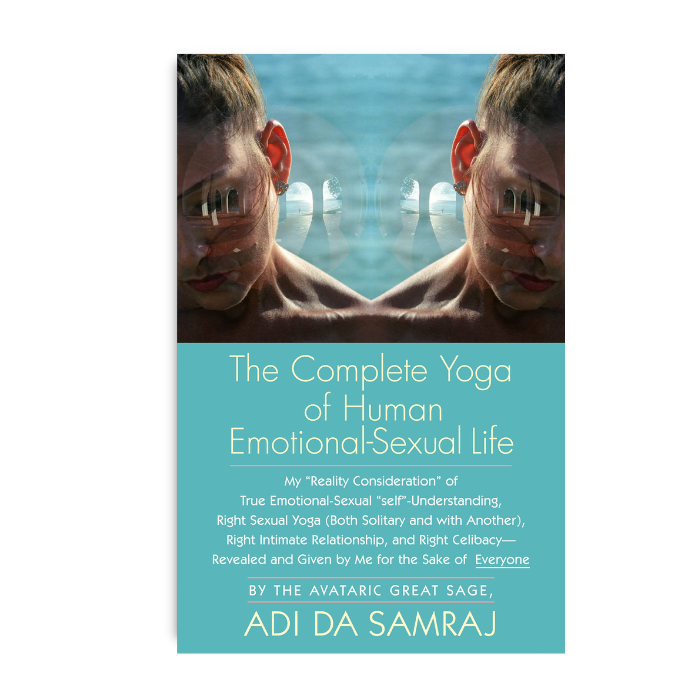 Complete Yoga of Emotional-Sexual Life:
The Way Beyond Ego-based Sexuality
The core practices of the emotionally and sexually balanced teachings on love, intimacy and sexual relationships from the realised master Adi Da Samraj. In all the domains of human life, we now understand the need for an integration of body, mind and spirit.
But despite this comprehension of the holistic nature of existence, much of the teaching offered on sexuality - even sacred sexuality - concentrates on the physical practice, to the detriment of emotional intimacy. Adi Da Samraj explains that our emotional-sexual life can only be made right through the process of restoring the bipolar balance of the body and by transcending the ego, the illusory sense of separate existence. He advocates that sexual practice initially become a solitary yogic discipline - an embracing and reclaiming of one's own body - to restore the bipolar integrity that is at the core of every human being. Once this bipolar integrity is established, he shows how a sexual practice of true intimacy - free of clinging attachment - is possible.
He also teaches that an unconscious, early childhood reaction to the mother and father governs the emotional-sexual life, a reaction that must be understood and transcended. The emotional-sexual practices taught by Adi Da are centred in the understanding that love breaks the heart and show that learning how to have intimacy without ego-based attachment is where profound practice begins. · Teaches how to overcome the emotional patterning that hinders healthy sexual relationships · Presents a solitary yogic discipline to restore the bipolar integrity of the individual · Shows how to entirely transcend emotional-sexual patterns