Regular price
Sale price
€24,95 EUR
Unit price
per
Sale
Sold out
Shipping & Returns

Shipping is free when you spend over €35 when ordering from Nederland, Germany and UK & Ireland
A standard rate of €3.50 is applied for invoices under €35.
For all other European countries a charge of €7.50 is made for each order to cover costs, and shipping is free if you spend over €50 .

We have a 14-day return policy, which means you have 14 days after receiving your item to request a return.
Care Instructions

Every care is taken on packing and despatching your purchases.
Share
View full details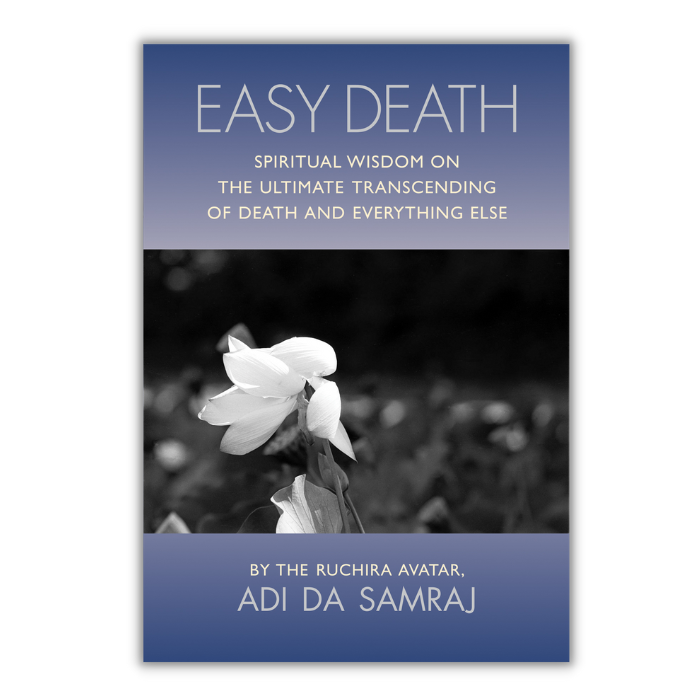 Easy Death 
The prospect of death requires more than messages that console us or philosophies that immunise us from its actual implications. Whether you are approaching your own death, facing the death of a loved-one, or are simply wanting to understand the purpose of this brief and mortal life, you will find unique and transformative help in these pages.
Easy Death—described by Dr. Elisabeth Kübler-Ross as a "masterpiece"—offers real wisdom from one who is not only profoundly sensitised to the mortal condition, but whose divinely enlightened view is rooted in the deathless Reality.

This third edition includes Avatar Adi Da's instruction on the real nature and actual process of death, and on realization of the deathless condition; accounts of the death experiences and events in Avatar Adi Da's own life; stories of Avatar Adi Da's spiritual help in the death transitions of devotees and their loved-ones; practical instruction on preparing for death, helping a loved-one die, and helping an animal die.

Avatar Adi Da Samraj was born in and as and from the "Bright" Reality in which there is neither birth nor death. His entire lifetime was spent unlocking that ultimate condition from limited views and offering a way for anyone to realise it directly. Therefore, Easy Death is not only about dying, or about preparing to die—it is a call to Awaken beyond all philosophies and practices related to dying, beyond even the very fact of suffering and death.
"Fear of death is anxiety (or emotional recoil) experienced in anticipation of the event. Such fearful anticipation is basically the result of a failure to observe the death process in others and to study that process through systematic education and self-observation.
Death is a necessary, purposeful, and (ultimately) benign psycho-physical process. It is similar to the process of giving birth, except that it occurs to both males and females.
As in the case of preparing for childbirth, you must study the death process bodily and through observing others. Above all, tension and fear must be relaxed during the death process (as it must be in the case of a woman in childbirth).
You must relax and release, as when going to sleep — in a feeling of deep trust, love, and surrender to the Divine Reality on Which the process depends."
— Avatar Adi Da Samraj